Ubiquiti USW-PRO-24-POE 24-Port UniFi Pro Gigabit Managed PoE+ Switch, Gen2, with 2x SFP+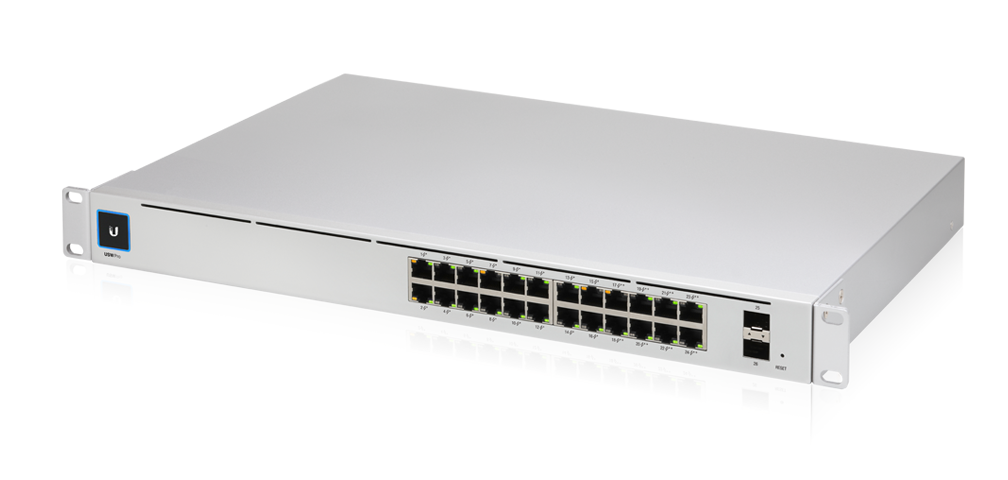 802.3at/bt PoE Gigabit Switches with Layer 3 Features and SFP+
Auto-Sensing IEEE 802.3af/at/bt PoE
SFP+ Ports for 10G Links
Integrated Fans for Near-Silent Cooling
The USW-Pro-24-POE is a configurable Gigabit Layer2 and Layer3 switch with auto-sensing 802.3at PoE+ and 802.3bt PoE++. Sixteen PoE+ and eight PoE++ RJ45 ethernet ports have total 400W PoE budget, and two SFP+ ports offer 10Gbps uplink options. Near-silent cooling and a 1.3" touch LCM.
• (16) Gigabit RJ45 ports with 802.3af/at
• (8) Gigabit RJ45 ports with 802.3bt
• (2) 1/10G SFP+ ports
• 1U Rackmountable (hardware included)
• Dimensions : 442.4 x 285.4 x 43.7 mm
• Total Available PoE : 400W
Expand and power your network with the UniFi® Pro PoE Switch, part of the Ubiquiti® UniFi Enterprise System. It is available in two models:
• USW-Pro-24-PoE 24 RJ45 ports with 2 SFP+ ports
• USW-Pro-48-PoE 48 RJ45 ports with 4 SFP+ ports
Layer 3 Features
In addition to Layer 2 switching protocols and features, the UniFi Pro PoE Switch offers Layer 3 capabilities*, such as inter-VLAN routing, static routing, and DHCP server functionality.
Near-Silent Cooling
The UniFi Pro PoE Switch can be located in any workspace. Its integrated fans have built-in PWM (Power Management) control, air ducts and covers, and temperature sensors for the best user experience.
Fiber Connectivity
SFP+ ports enable high-capacity uplinks of up to 10 Gbps, so you can directly connect to a high-performance storage server or deploy a long-distance uplink to another switch.
802.3bt PoE++
PoE support simplifies your network infrastructure and cabling. Eight ports offer 802.3bt PoE++ to provide up to 64W of power (per port) to your high-power PoE devices. Remaining ports offer 802.3af/at PoE.
Redundant Power Option
The UniFi Pro PoE Switch supports an external DC input interface, the proprietary USP RPS interface, as a redundant power feature for backup if the internal PSU fails.