Ubiquiti USW-24-POE 24-Port UniFi Gigabit Managed PoE+ Switch, Gen2, 2x SFP, 16x PoE+ Port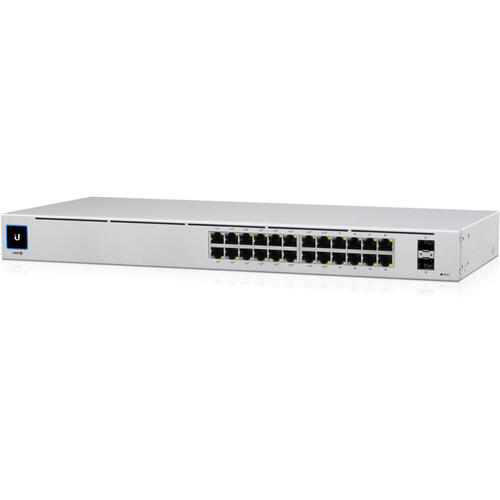 802.3at PoE Gigabit Switch with SFP
Auto-Sensing IEEE 802.3af/at PoE
SFP Ports for Gigabit Fiber Connectivity
Fanless, Silent Thermal Cooling
(24) Gigabit Ethernet Ports
(16) 802.3at PoE+ Ports
Total Available PoE : 95W
(2) 1G SFP Ports
1.3" touch LCM
Managed by UniFi Controller
240W Power supply
The USW-24-POE Gen 2 is a configurable Gigabit Layer 2 switch with twenty-four Gigabit Ethernet ports including sixteen auto-sensing 802.3at PoE+ ports, and two SFP ports. It provides Gigabit PoE links to your RJ45 Ethernet devices and Gigabit fiber uplink options to your enterprise network. The USW-24-POE features a 1.3" touch LCM to provide status information. With a depth of 7.9", the compact fanless design can be easily installed in a SOHO rack cabinet.
Managed and configured by the UniFi Network Controller with UniFi mobile app support, the USW-24-POE offers an extensive suite of advanced Layer 2 switching protocols and features, including operation mode (switching, mirroring, or aggregate) per port. The UniFi Network Controller and mobile app allow admins to configure and monitor virtually all of the switch features in a graphical user interface from anywhere.
Compact Form Factor
Measuring only 7.9" in depth, the UniFi PoE Switch is designed for convenient installation:
• rackmounted in a SOHO rack cabinet
• placed on a desktop
Fiber Connectivity
SFP ports enable network uplinks of up to 1 Gbps.
Fanless, Silent Cooling
The UniFi PoE Switch features fanless, silent thermal cooling*, so it can be deployed in areas where fan noise would be distracting.
* Fanless switches must not be stacked.
Switching Performance
The UniFi PoE Switch offers the forwarding capacity to simultaneously process traffic on all ports at line rate without any packet loss.
802.3af/at PoE
PoE support simplifies your network infrastructure and cabling. PoE ports offer 802.3af/at to power your PoE devices, such as UniFi APs and cameras.
Number of PoE Ports : 16
Total Available PoE : 95W
Max. PoE Wattage per Port : 32W
Innovative Display
The 1.3" touchscreen displays status information for easy monitoring and quick troubleshooting.
Dimensions 442.4 x 200 x 43.7 mm
Weight With Brackets 3.09 kg
(16) Gigabit RJ45 ports with 802.3af/at
(8) Standard Gigabit RJ45 ports
(2) 1G SFP ports
1U Rackmountable (hardware included)
Dimensions

424.4 x 200 x 43.7 mm

Weight
With Rackmount Brackets

3.00 kg
3.09 kg

Interfaces
Networking

Management

(24) 10/100/1000 RJ45 Ports
(2) 1G SFP Ethernet Ports

Ethernet In-Band

Power Method

100-240VAC/50-60 Hz, Universal Input

Power Supply

AC/DC, Internal, 120W

Supported Voltage Range

100 to 240VAC

Max. Power Consumption (Excluding PoE Output)

25W

LEDs
System
RJ45 Data Ports
SFP Data Ports


Status
PoE; Speed/Link/Activity
Link/Activity

ESD/EMP Protection

Air: ± 16 kV, Contact: ± 12 kV

Shock and Vibration

ETSI300-019-1.4 Standard

Operating Temperature

-5 to 40° C

Operating Humidity

10 to 90% Noncondensing

Certifications

CE, FCC, IC

POE

PoE Interfaces Ports 1-16

POE+ IEEE 802.3af/at (pins 1, 2+; 3, 6-)

Max. PoE Wattage per Port by PSE
802.3at


32W

Voltage Range 802.3af Mode

44-57V

Voltage Range 802.3at Mode

50-57V
Dimensions

424.4 x 200 x 43.7 mm

Weight
With Rackmount Brackets

3.00 kg
3.09 kg

Interfaces
Networking

Management

(24) 10/100/1000 RJ45 Ports
(2) 1G SFP Ethernet Ports

Ethernet In-Band

Power Method

100-240VAC/50-60 Hz, Universal Input

Power Supply

AC/DC, Internal, 120W

Supported Voltage Range

100 to 240VAC

Max. Power Consumption (Excluding PoE Output)

25W

LEDs
System
RJ45 Data Ports
SFP Data Ports


Status
PoE; Speed/Link/Activity
Link/Activity

ESD/EMP Protection

Air: ± 16 kV, Contact: ± 12 kV

Shock and Vibration

ETSI300-019-1.4 Standard

Operating Temperature

-5 to 40° C

Operating Humidity

10 to 90% Noncondensing

Certifications

CE, FCC, IC

POE

PoE Interfaces Ports 1-16

POE+ IEEE 802.3af/at (pins 1, 2+; 3, 6-)

Max. PoE Wattage per Port by PSE
802.3at


32W

Voltage Range 802.3af Mode

44-57V

Voltage Range 802.3at Mode

50-57V