VigorACS 2 license key for up to 500 CPE nodes, 1 year

DrayTek DACSII0500 VigorACS 2 license key for up to 500 CPE nodes, 1 year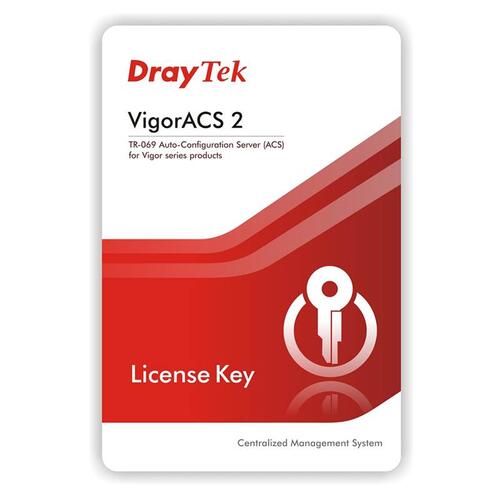 Advanced Centralized Management System for Network Administrators
Real-time status monitoring
Automatic remote service provisioning for DrayTek's Vigor devices
Scheduled firmware upgrades
Device performance reporting and system logging
Drag and drop VPN configuration wizard
Flexible and secure CPE grouping
Scheduled back-up and restore of configuration data
TR-069 compliant
AP & Wireless Management
Responsive Web Design (RWD) enables viewing on various screen sizes
Available in license quantity up to 1000 CPE nodes.
VigorACS 2 is a TR-069 based centralized management system for DrayTek's Vigor devices. With a user-friendly interface, it allows system integrators or network administrators to configure, monitor and manage DrayTek devices remotely from the comfort of their office.
VigorACS 2 provides a user-friendly interface with a responsive display which automatically adjusts and arranges content to suit a variety of devices such as PC's, tablets or phones.
Benefits of VigorACS 2
Time and cost savings for the businesses/organisations
More reliable and secure networks
Less travelling for network administrators
Network alarm and report for better management decisions
Customer satisfaction
Extra income source for IT service providers
Time and Cost Saving Examples for VigorACS 2
Supported List
Vigor 2760
Vigor 2860
Vigor 2925
Vigor 2952
Vigor 3220
VigorAP 710
VigorAP 810
VigorAP 902
VigorAP 910C
*VigorACS 2 will support more products in future updates.