4G (LTE) CAT 6, Dual SIM Cellular & UFB router with 4x GigE

Teltonika RUTX09 4G (LTE) CAT 6, Dual SIM Cellular & UFB router with 4x GigE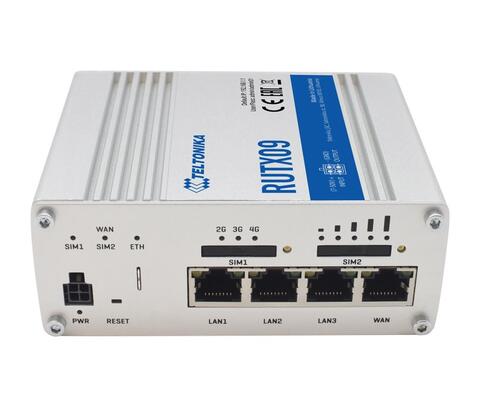 LTE-A CAT6 cellular IoT router with Dual-SIM, Carrier Aggregation and Gigabit Ethernet interface
Next generation LTE-A CAT6 cellular IoT router with Dual-SIM, Carrier Aggregation and Gigabit Ethernet interfaces. A rugged and powerful choice with VPN, firewall and plenty of processing power for custom applications on the OpenWrt based RutOS system.
LTE Cat 6 with speeds up to 300 Mbps
Gigabit Ethernet with speeds up to 1000 Mbps
Dual-SIM with auto Failover, Backup WAN and other SW features
Teltonika Remote Management System compatible
Multiple secure VPN services
Easy to use, secure and feature rich OpenWrt based Operating System
This powerful LTE router is designed as a Main/Backup Internet source where steady connection and high data throughput is required. Equipped with Dual-SIM and four Gigabit Ethernet ports, RUTX09 also has all advanced RutOS software and security features.
SCENARIOS
This advanced router is ideal for:
Public transport (for example to be able to pay by pin on the bus)
Commercial transport (exchange information without going back to the office)
Emergency services (real-time information exchange for the police, ambulance, fire brigade, etc.)
Smart grids, smart metering (energy and cost savings)
Solar energy, wind energy (remote monitoring / management)
Oil and gas transport (remote monitoring / management)
Traffic systems (monitoring / managing traffic lights and other equipment)
Cooling and heating (monitoring systems: cost savings)
Lifts (monitoring / managing: preventing faults, promoting safety)

Add remote access and management with Teltonika Networks Remote Management System (RMS).
RMS is an all-in-one user-friendly IoT platform providing a smart way to stay on top of your whole connected solution completely remotely, securely, and reliably.
It is a powerful solution for remote access and management allowing users to save time and operational costs while being flexible and easy to use. With RMS you can manage compatible Teltonika Networks routers and gateways, reach remote devices, utilize the power of remote desktop access and configure secure VPN tunnels with just a few clicks.
Try it for free - https://rms.teltonika-networks.com/account/register
Specifications
4G LTE-A router
Download speed: up to 300 Mbps
Upload speed: up to 50 Mbps
4G frequencies: LTE-FDD: B1, B3, B5, B7, B8, B20, B28A, B321, LTE-TDD: B38, B40, B41
3G frequencies: UMTS B1, B3, B5, B8
3 x Gigabit LAN ports
1 x Gigabit WAN port (can also be configured as a LAN port)
2 external antennas for 4G LTE-A (SMA-female)
1 antenna connection for GPS (antenna not included)
1 x 4 pin DC
CPU: Quad Core ARM Cortex A7 717 MHz
Memory: 256 MBytes Flash, 256 MBytes DDR3 RAM
GPS
Durable metal housing
Can be used with Remote Management System (RMS) and Teltonika router app
Dimensions: 115 mm x 95 mm x 44 mm
Weight: 430 grams

What's in the Box
Router RUTX09
Power adapter
2 x LTE antennas (swivel, SMA male)
1 x GNSS antenna
Ethernet cable (1.5 m)
QSG (Quick Start Guide)