10Gbps 1310nm singlemode SFP+ Optical Transceiver, 10km reach

ETU-LINK ES31X-3LCD10 10Gbps 1310nm singlemode SFP+ Optical Transceiver, 10km reach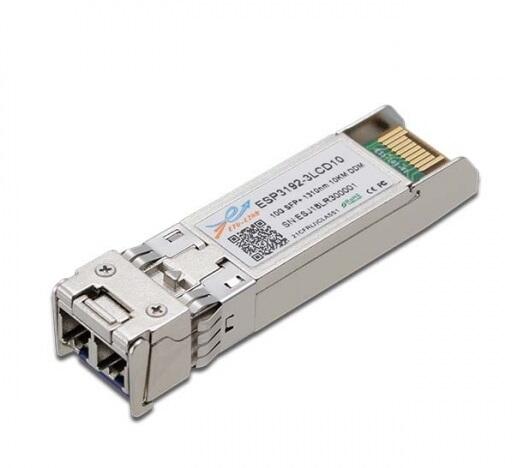 10Gbps 1310nm 10km SFP+ Optical Transceiver
Optical interface compliant to IEEE 802.3ae 10GBASE-LR
Electrical interface compliant to SFF-8431
Hot Pluggable
1310nm DFB transmitter, PIN photo-detector
Operating case temperature: 0 to 70 °C
Low power consumption
Applicable for 10km SMF connection
All-metal housing for superior EMI performance
Advanced firmware allow customer system encryption
information to be stored in transceiver
Cost effective SFP+ solution, enables higher port densities and greater bandwidth
RoHS6 compliant (lead free)
This 1310 nm DFB 10Gbps SFP+ transceiver is designed to transmit and receive optical data over single mode optical fiber for link length 10km.
The SFP+ 10km module electrical interface is compliant to SFI electrical specifications. The transmitter input and receiver output impedance is 100 Ohms differential. Data lines are internally AC coupled. The module provides differential termination and reduce differential to common mode conversion for quality signal termination and low EMI. SFI typically operates over 200 mm of improved FR4 material or up to about 150mmof standard FR4 with one connector.
Fibre is the same word as fiber.
Fiber is preferred in American spelling; Fibre is the preferred spelling in New Zealand English.