LiteBeam 5AC Long-Range CPE and PtP Radio, 450Mbps, 26dBi Antenna

Ubiquiti LBE-5AC-LR LiteBeam 5AC Long-Range CPE and PtP Radio, 450Mbps, 26dBi Antenna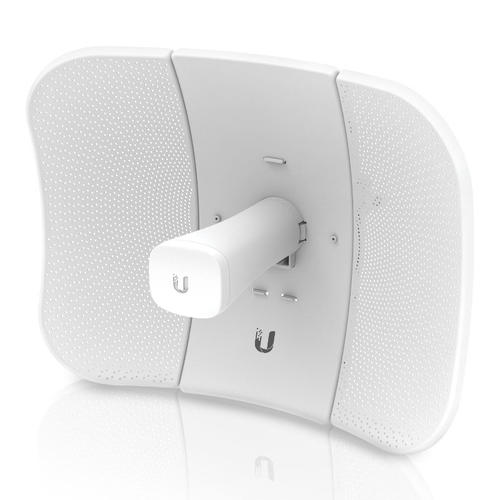 The Ubiquiti LiteBeam AC Long Range is an ultra-lightweight airMAX ac CPE device with incredible range.
The LiteBeam AC LR provides 26 dBi of gain for long-distance connectivity and uses a directional antenna pattern for improved noise immunity.
Featuring enhanced protection against ESD events, the LiteBeam AC offers a more robust mount with separate azimuth and elevation adjustments. The LiteBeam AC LR integrates a separate Wi-Fi radio for fast and easy setup using your mobile device. airOS 8 provides powerful features, including airMAX ac protocol support, real-time RF analytics, and an all-new design for enhanced usability. Featuring the freedom of three-axis alignment, the LiteBeam AC fully assembles in seconds – no tools needed. Only a single wrench is required for pole-mounting.
Power Supply : 24V, 0.3A Gigabit PoE Adapter (Included)
Max. Power Consumption : 7W
Power Method : Passive PoE (Pairs 4, 5+; 7, 8 Return)
Supported Voltage Range : 24V ± 10%
Gain : 26 dBi
Networking Interface : (1) 10/100/1000 Ethernet Port