EdgeRouter 6-Port Switch Router (5 RJ45, 1 SFP), 24V PoE

Ubiquiti ER-6P EdgeRouter 6-Port Switch Router (5 RJ45, 1 SFP), 24V PoE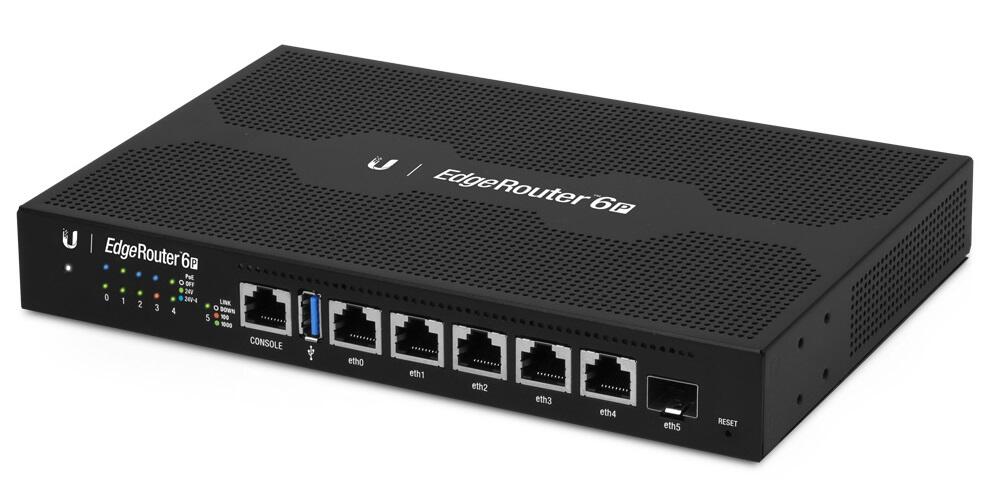 Ubiquiti Networks introduces the EdgeRouter 4 and EdgeRouter 6P, the next generation of routers for the EdgeMAX®platform. EdgeRouters combine carrier-class reliability with enterprise-level features in a compact and affordable unit. The EdgeRouter 4 and EdgeRouter 6P offer Gigabit Ethernet ports and an SFP port for a fiber link. The EdgeRouter 6P also offers five configurable PoE ports to power airMAX products.
The EdgeRouter 4 and EdgeRouter 6P are each capable of routing up to 3.4 million packets per second. The EdgeRouter 4 has a line rate of 4 Gbps, while the EdgeRouter 6P has a line rate of 6 Gbps. Powered by a proprietary and intuitive graphical interface, EdgeOS®, EdgeRouters can easily be configured for routing, security, and management features required to efficiently run your network.
For advanced network professionals, an integrated CLI is available for quick and direct access using familiar commands. Even greater convenience and flexibility is provided by the UNMS app, which makes it possible to manage the EdgeRouter remotely from your mobile device.
(5) Gigabit RJ45 routing ports
PoE support on RJ45 ports: 24V 2-pair or 24V 4-pair
(1) Gigabit SFP port
3.4 million packets per second for 64-byte packets
6 Gbps for packets 256 bytes or larger in size
Silent, fanless operation
Compact, durable metal case
Processor : 4-Core 1GHz MIPS64
System Memory : 1GB DDR3
On-Board Flash Storage : 4GB eMMC, 8MB SPI NOR
Max. Power Consumption : 16W
Supported Voltage Range : 24V : 27V~21V
Networking Interfaces : (1) RJ45 Serial Port, (5) 10/100/1000 Ethernet Router Ports, (1) 1Gbps SFP Ethernet Router Port, (1) USB 3.0 reserved for future
PoE Interfaces : (5) 24V Passive PoE ports (2-pair and 4-pair)
Management Interface : (1) RJ45 Serial Port, (6) Ethernet Ports, (default eth0)
Dimensions : 229 x 136.5 x 31.1mm, 730g
Enclosure Characteristics : Metal Housing with Black Powder Coat