Central Intercept X Advanced - 1-9 USERS - 12 Mth

SOPHOS CIXD1CSAA Central Intercept X Advanced - 1-9 USERS - 12 Mth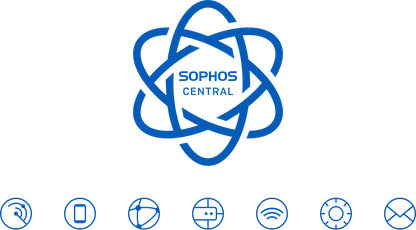 Unmatched Endpoint Protection.
Sophos Intercept X stops the widest range of attacks with a unique combination of deep learning malware detection, exploit prevention, anti-ransomware, and more.
Next-Generation Anti-Exploit, Anti-Ransomware, and Root Cause Analysis
Sophos Intercept X employs a comprehensive, defence in depth approach to endpoint protection, rather than relying on one primary security technique.
This layered approach combines modern and traditional techniques to stop the widest range of threats.
Highlights
* Stops never seen before threats with deep learning AI
* Blocks ransomware and rolls back affected files to a safe state
* Prevents the exploit techniques used throughout the attack chain
* Answers critical IT operations and threat hunting questions (*with XDR)
* Provides 24/7/365 security delivered as a fully managed service
* Easy to deploy, configure and maintain even in remote working environments
Comparison of Intercept X Advanced and Intercept X Essentials
| | | |
| --- | --- | --- |
| Feature | Intercept X Essentials / Intercept X Essentials for Server | Intercept X Advanced / Intercept X Advanced for Server |
| Multiple Policy Support | Base only | Y |
| Controlled Updates | | Y |
| Web Control/Category-based URL blocking | | Y |
| Peripheral Control | | Y |
| Application Control | | Y |
| Data Loss Prevention | | Y |
| Threat Cases | | Y |
| Early Access Programs | | Y |
| Web Security | Y | Y |
| Download Reputation | Y | Y |
| Deep Learning Malware Detection | Y | Y |
| Anti-Malware File Scanning | Y | Y |
| Live Protection | Y | Y |
| Pre-execution Behavior Analysis (HIPS) | Y | Y |
| Potentially Unwanted Application (PUA) Blocking | Y | Y |
| Intrusion Prevention System (IPS) | Y | Y |
| Runtime Behavior Analysis (HIPS) | Y | Y |
| Antimalware Scan Interface (AMSI) | Y | Y |
| Malicious Traffic Detection (MTD) | Y | Y |
| Exploit Prevention | Y | Y |
| Active Adversary Mitigations | Y | Y |
| Ransomware File Protection (CryptoGuard) | Y | Y |
| Disk and Boot Record Protection (WipeGuard) | Y | Y |
| Man-in-the-Browser Protection (Safe Browsing) | Y | Y |
| Enhanced Application Lockdown | Y | Y |
| Automated Malware Removal | Y | Y |
| Synchronized Security | Y | Y |
| Sophos Clean | Y | Y |
| Managed from Sophos Central | Y | Y |
Server Specific Functionality
| | | |
| --- | --- | --- |
| File Integrity Monitoring (FIM) | | Y |
| Server Lockdown | | Y |
| Cloud Security Posture Management (CSPM) | | Y |