3-Pack of Insight Managed Smart Cloud Wireless Access Point (WAC505)

NETGEAR WAC505B03-10000S 3-Pack of Insight Managed Smart Cloud Wireless Access Point (WAC505)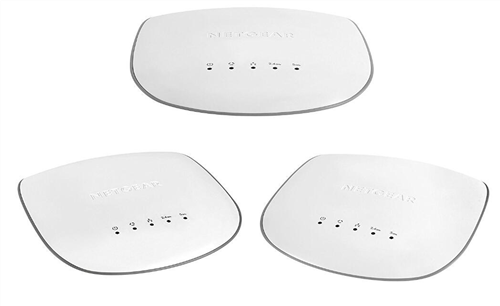 The NETGEAR Insight Managed Wireless Access Point WAC505 delivers high performance WiFi and high client density for enterprises requiring ubiquitous and reliable wireless for all business applications.
802.11a, 802.11b, 802.11g, 802.11ac, 802.11ac 2.0 specification
2.4GHz and 5GHz concurrent operation
300Mbps (2.4GHz)
867Mbps (5GHz)
200 (max.) client capacity
Deployment and management : Standalone or Netgear Insight app
Routing function
One 10/100/1000BASE-T Gigabit Ethernet (RJ-45) port with Auto Uplink™ (Auto MDI-X)
IEEE 802.3af or 802.3at Power over Ethernet
Dimensions (L x W x H): 175 x 165 x 35mm
Weight: 256g
The WAC505 is managed by NETGEAR Insight app, for a more intuitive and innovative support, with no need for extra management hardware. The WAC505 features Multi-User MIMO (MU-MIMO) to achieve aggregate speeds up to 1.2 Gbps, option to configure as or Access Point modes, and comes with two Ethernet ports, a Power-over-Ethernet (PoE) 1Gb LAN port and a WAN port.
The WAC505 comes with market-leading 5-year hardware warranty.
One-touch wireless connectivity & management with NETGEAR Insight app
Instant in-app discovery & set-up
Local and Cloud monitoring and management
Remote access and multi-device configuration
No additional Cloud controller, appliance, network manager, or PC/server is necessary
QR code initial configuration for instant installation
Superior performance with 802.11ac Wave 2
Dual band concurrent operation between 2.4GHz and 5GHz frequency ranges
Maximum performance with multi-gigabit throughput (up to 1.2 Gbps)
Multi-User MIMO enable concurrent wireless transmit and receive with multiple clients
Improves coverage for multiple users in dense environment
Flexible deployment with Power over Ethernet and accessories
Standard based 802.3af Power over Ethernet (PoE)
Access Point mode for multiple WAC505 for mid-size office environment
Ceiling and wall mount for ease of placement