28-Port Gigabit Ethernet Aggregation Switch, with 4 x 10GigE SFP+

Edgecore ECS4120-28T 28-Port Gigabit Ethernet Aggregation Switch, with 4 x 10GigE SFP+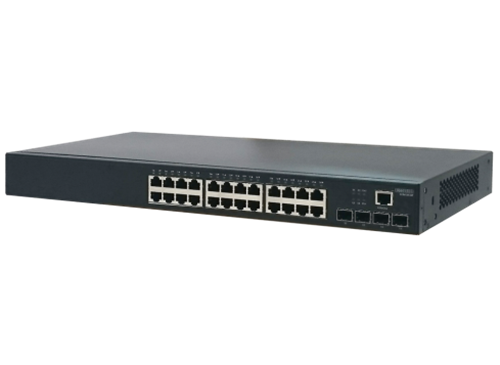 Gigabit Ethernet access switch with four 10G uplink ports
The ECS4120-28T is a high-performance Gigabit Ethernet switch featuring 28 ports, with 24 x Gigabtit Ethernet and 4 x 10 Gigabit Ethernet SFP+ ports.
This is a high-performance Layer 2+ managed switch with 128Gbps switching capacity and fan-less design.
Fanless
Layer 2 plus Routing/Switching
IPv6 Management
Static Routing
The Edgecore ECS4120 switch series is a Gigabit Ethernet access switch with four 10G uplink ports. The switch is ideal for Internet Service Providers (ISPs) and Multiple System Operators (MSOs) to provide home users with triple-play services with up to Gigabit bandwidth. It is also an ideal Gigabit access switch for SMB, enterprise, and campus networks. The ECS4120 switch series is packed with features that bring high availability, comprehensive security, robust multicast control, and advance QoS to the network edge, while maintaining simple management. The switch also supports the most advance IPv6 management, IPv6 security, and IPv6 multicast control in accordance with the growth of IPv6 deployment. ISPs can expand their services from home to business users by providing a more reliable and resilient network (ITU-T G.8032 ERPS), L2 VPNs, and advanced OAM (Operations, Administration, and Maintenance) functions to ensure service-level agreements.
Performance and Scalability - high-performance Gigabit Ethernet Layer 2+ managed switch with 128Gbps switching capacity.
Continuous Availability - The IEEE 802.1w Rapid Spanning Tree Protocol provides a loop-free network and redundant links to the core network with rapid convergence, to ensure faster recovery from failed links, enhancing overall network stability and reliability.
Reliability and Energy Efficiency - The fan-less design of ECS4120-28T ensures noiseless operation and increases the reliability of the system.
Enhanced Security - Port security limits the total number of devices from using a switch port and protects against MAC flooding attacks.
Comprehensive QoS - The ECS4120 Series offers advanced QoS for marking, classification, and scheduling to deliver best-in-class performance for data, voice, and video traffic at wire speed.
Robust Multicast Control - IGMP snooping prevents the flooding of multicast traffic by dynamically configuring switch ports so that multicast traffic is forwarded to only those ports associated with an IP multicast receiver.
IPv6 Support - The switch supports a number of IPv6 features, including IPv6 Management, DCHPv6 Snooping with Option 37, IPv6 Source Guide, and MVR6.
Superior Management - An industry-standard command-line interface (CLI), and supports SNMPv1,2c,3 and four-group RMON.
Service Monitoring and Management
Virtual Private Networks - The ECS4120 Series supports Layer 2 VPNs by using Q-in-Q functions