In/Outdoor Dome IP Camera, optimised for night time applications

MOBOTIX MX-D26B-6N In/Outdoor Dome IP Camera, optimised for night time applications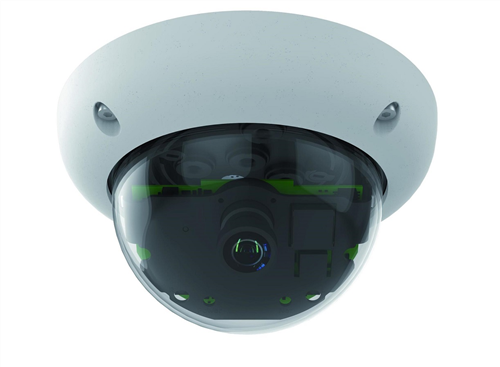 Use this camera for optimum image quality with external IR lighting at night
D26 camera module (body) with 6 Megapixel Moonlight Sensor, B/W (for night time applications)
• ONVIF-compliant Mx6 system platform (2nd generation) with H.264, MxPEG+ and M-JPEG
• Lens to be ordered individually (B036 to B237)
• Max. image size: 6MP (3072 x 2048)
• IP66/IK10, -40 to 50°C (-40 to 122°F)
• Internal DVR: 4 GB microSD
• Temperature sensor, MxActivitySensor, MxAnalytics, shock detector
• Ethernet patch cable 0.5 m/1.6 ft
• Lens cover with sealing ring (polycarbonate, 1.5 mm)
• Interfaces: Ethernet 10/100 (RJ45), MxBus, USB; I/O and RS232 via MX-232-IO-Box (MX-OPT-RS1-EXT)

For optimum image quality with IR lighting at night
With most manufactures a day and night color network camera delivers color images during the day and when light diminishes below a certain level, the camera uses an IR-cut filter to switch to night mode to make use of near infrared (IR) light to deliver black and white images.
With this approach the camera uses a mechanical IR-cut filter. When such mechanisms are used the cameras have higher failure rates than cameras without any kind of moving part. The main reason for failure with this type of camera is that the filter wears out or it gets stuck. It is for this reason that MOBOTIX has a different approach to the Day and Night cameras.
MOBOTIX single lens cameras come in two variants: Day or Night. In this case the camera will always show the color image using Day models and a black and white image using Night models.
With black and white video the camera will not capture colors but it will allow for a much higher quality identification of people and objects at lower light levels and with external IR lighting.