Point-to-Point Outdoor Bridge Kit, 2 x Pre-configured NS AC Loco

Ubiquiti NS-5ACL-KIT Point-to-Point Outdoor Bridge Kit, 2 x Pre-configured NS AC Loco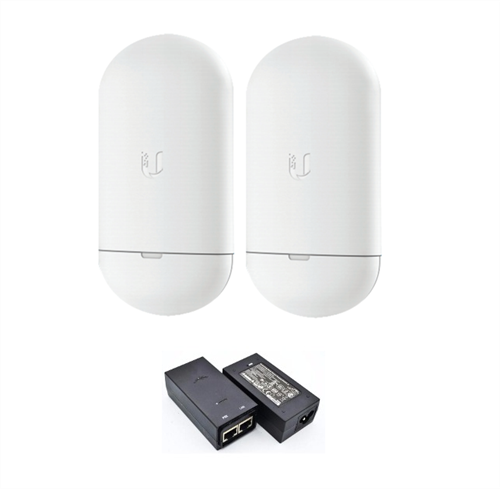 Point-to-Point Outdoor Wireless Bridge, pre-configured to create a plug-and-play outdoor Ethernet extension.
2 x 5GHz NanoStation AC Loco 25dBm bridge with integrated 13dBi antennas and bundled PoE injectors.
Pre-configured and tested.
Designed for deployment in a variety of environments in which point to point-to-point wireless bridge communication is needed, the NanoStation AC loco 5 GHz airMAX ac Radio from Ubiquiti Networks offers enhanced connectivity options. This radio comes equipped with a Gigabit Ethernet networking interface and supports 10/20/30/40/50/60/80 MHz channel bandwidths. Installation is simple, thanks to the included pole-mount ready kit, while the outdoor UV stabilized plastic enclosure allows the airMAX ac radio to be installed in nearly any environment.
Kit comprises 2 x NS-5ACL and 2 x POE-24-12W-G
NS-5ACL Key Features:
Gigabit Ethernet Networking Interface
10/20/30/40/50/60/80 MHz Bandwidth
560 MHz Atheros MIPS 74Kc Processor
64 MB DDR2 Memory
1.8:1 Max VSWR
45° Beamwidth
Dual Linear Polarization
Outdoor Stabilized UV Plastic Enclosure
Includes items to mount on a pole