BIZ 2400 II Ultra Noise Cancelling Mono Headset, with QD Cord

Jabra 2406-720-209 BIZ 2400 II Ultra Noise Cancelling Mono Headset, with QD Cord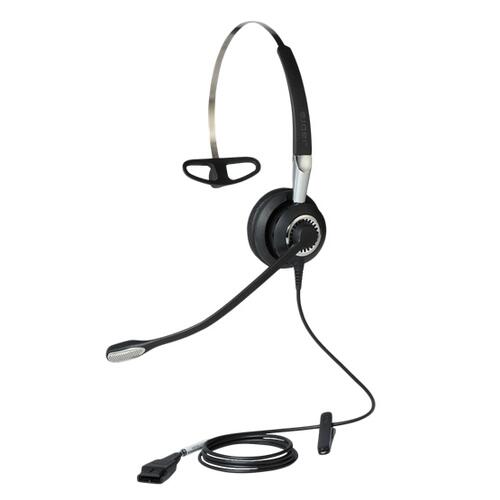 Jabra Biz 2400 II Quick Disconnect 3 in 1 Wired Mono Headset with Ultra Noise Cancelling
Jabra BIZ 2400 II is a corded professional headset that delivers outstanding sound at both ends of the call. 40% lighter than competing headsets, with super-soft leatherette headband and ear cushions. Built to last with a Kevlar-reinforced cord and unbreakable boom arm.

Better conversation
• The most important factor in a contact centre headset is eliminating background noise from the busy environment and letting the customer hear your voice clearly.
• The ultra noise-cancelling microphone provides the highest degree of background noise elimination in any of our headsets.
Better sound
• If you're in a busy environment, you need great sound to hear the voice of your customer. Additionally, sometimes you're concentrating on work and want hi-fi sound for music. The Jabra Biz 2400 II is great at both.
Better build
• Jabra Biz 2400 II is built to last in a high-performing contact centre, meaning fewer headset replacements and less downtime for you and your team and lower total cost of ownership.
Better comfort
• The Jabra Biz 2400 II has an extremely lightweight and unobtrusive design. This means lowered agent fatigue and more productive calls.
Specifications:
• Headset Dimensions (LxHxW): 141 x 183 x 67 mm
• Weight (approx): 45 g
• Connection: QD (Quick Disconnect)
• Speaker Size: 30 x 6.8 mm
• Speaker sensitivity: 10 dB +/- 3dB
• Speaker impedance: 300Ohm +/- 15 %/1kHz/ 1.0V
• Speaker max input power: 20mW
• Speaker frequency range: 100Hz to 4500Hz
• Microphone type: Uni-directional microphone
• Microphone sensitivity: -28 dB V/Pa ±3dB, Pin=1Pa, 0dB=1V/Pa
• Microphone frequency range: 100Hz – 8000Hz
Package Contents:
• Headset
• Headband
• Ear hook
• Neckband
• Pouch
• Warranty card
• Warning card
• Quick start guide