ProSafe 16-port Gigabit Rackmount Switch

NETGEAR JGS516AU ProSafe 16-port Gigabit Rackmount Switch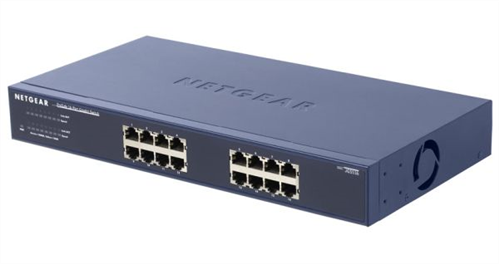 Control and Configure Beyond Plug-and-Play Connectivity.
Today's growing businesses rely more on their network to carry out missioncritical business activities. Deployment of VoIP and IP surveillance needs the network intelligence to separate the voice and video traffic from data, and prioritize them accordingly. However, companies do not necessarily have more money or advanced training to deal with complex managed switches.
NETGEAR's JGS500 series Gigabit Switch Series gives your office network a megaboost of speed and capacity that is within your budget. With up to 48 Gbps of bandwidth, these 16- and 24-port switches can blast 2000 Mbps per port while their affordable prices enable you to put them everywhere. Use it to take Gigabit Ethernet directly to the desktop! Standards-based for easy integration of 10-, 100-, and 1000-Mbps devices, these unmanaged, rack-mountable switches feature 10/100/1000 automatic speed and full/half-duplex sensing plus Auto Uplink™ on every port. Users can take advantage of the their ability to deliver large amounts of multimedia, image, and video information in no time at all. Ideal for workgroups, labs, departments, or growing offices looking for oustanding performance at a low price.
ProSAFE Plus Features
• Enable network configuration and management at the price point of Unmanaged Switches
• Gigabit connection delivers up to 2000 Mbps of dedicated, non-blocking bandwidth per port
• Simple, yet useful network set-up on top of plug-and-play connectivity
• Flexible management via easy-to-use web browser-based management GUI or using the PC-based ProSAFE Plus Utility application
• VLAN support for traffic segmentation
• Quality of Service (QoS) for traffic prioritization
• Auto "denial-of-service" (DoS) prevention
• Troubleshoot connection issues via cable test
• Loop detection and broadcast storm controls
• IGMP snooping v1, v2 and v3 support for multicast optimization
• Rate limiting for better bandwidth allocation
• Port mirroring for network monitoring
• Link aggregation/port trunking (static manual LAGs only) for bigger uplink bandwidth (16-port and 24-port models only)
• Jumbo frame support
• Energy Efficient Ethernet (IEEE 802.3az) support for maxium power savings