12-port 10GigE Smart Managed Pro Switch, with 2 x SFP+

NETGEAR XS712T-200AJS 12-port 10GigE Smart Managed Pro Switch, with 2 x SFP+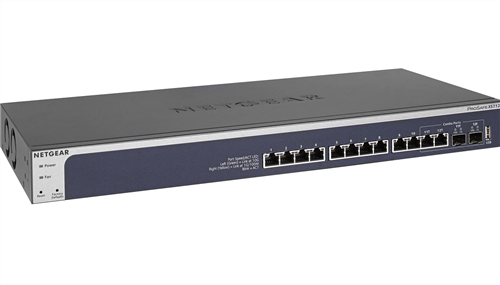 12 x 10GBASE-T copper RJ45 Ports
2 x SFP+ 1000/10GBASE-X fiber ports (shared)
The ProSAFE 10G Smart Managed Switches provide comprehensive L2+/Layer 3 Lite features in order to meet current and future needs on virtualization, converged networking and mobility. Some of the main features include:
Advanced VLAN features such as Protocol-based VLAN, MAC-based (Media Access Control) VLAN and 802.1x Guest VLAN
Advanced QoS (Quality of Service) with L2/ L3/L4 awareness and 8 priority queues
IPv4 and IPv6 static routing
Private VLAN
Dynamic VLAN assignment
IGMP and MLD snooping
Advanced Security
IPv6 for management, QoS and ACL
10-Gigabit Transition with BASE-T
10GBASE-T, like other BASE-T technologies, uses the standard RJ-45 Ethernet jack
It is backward compatible, auto-negotiating between higher and lower speeds – thereby not forcing an all-at-once network equipment upgrade
Cat 5 / Cat 5e are supported for Gigabit speeds up to 100 meters
Cat 6 twisted pair copper cabling supports 10-Gigabit speeds up to 45 meters
Cat 6a or newer Cat 7 cabling will allow for up to 100 meter 10GBASE-T connections
Featuring 12 10GBase-T copper ports and 2 combo SFP+ ports for 10G fiber links, the ProSAFE XS712T 12-Port 10-Gigabit Ethernet Smart Managed Switch from Netgear is designed for small business environments to provide network performance and cost-effective scalability. The 12 ports feature standard RJ-45 jacks that support Cat5/Cat5E cables for Gigabit speeds, Cat 6 twisted pair cables for 10 Gigabit up to 98.4', and Cat 6A or Cat7 cables for up to 328.1' 10GBase-T connections. These ports can also auto-negotiate between higher and lower speeds, so you can upgrade your network equipment one device at a time. In addition, the XS712T's 2 combo SFP+ 10G Fiber ports allow you to uplink with 10G-capable core or aggregation switches. To power and cool the switch, it comes with an internal power supply and two fans. This 1U rack-mountable switch offers a user-friendly web-based management interface that you can use to access its comprehensive L2 features. These features include Private VLAN, static routing, dynamic VLAN assignment, IGMP and MLD snooping, QoS with L2-L4 awareness and 8 priority queues, ACL binding, and more. Included with the ProSAFE 24-port 10 Gigabit Ethernet Smart Switch are a power cord, rack-mounting kit, and a resource CD.
The XS712T provides comprehensive L2 features in order to meet your current and future needs on virtualization, converged network and mobility. Some of the main features include:
Advanced VLAN features such as Protocol based VLAN and MAC-based VLAN
Advanced QoS (Quality of Service) with L2-L4 awareness and 8 priority queues
Static routing
Private VLAN
Dynamic VLAN assignment
IGMP and MLD snooping
Advanced Security
IPv6 for management, QoS, and ACL
10 Gigabit Transition with Base-T
10GBase-T, like other Base-T technologies, uses the standard RJ45 Ethernet jack
It is backward compatible, auto-negotiating between higher and lower speeds - thereby not forcing an all-at-once network equipment upgrade
Cat5/Cat5E cables are supported for Gigabit speeds; Cat6 twisted-pair copper cabling is the minimum requirement for 10 Gigabit up to 98.4'
Cat6A or newer Cat7 cabling allow for up to 328.1' 10GBase-T connections
Designed as Core Switch for SMB Network
10G connection to 10G-capable servers and network storages
L2+/Layer 3 Lite features make it a cost-effective core switch for SMB and virtualization environment
Future-proof your network with 10G bandwidth, advanced traffic management and comprehensive IPv6 Support
Static routing helps to route internal traffic for more efficient use of network resources
IGMP and MLD snooping, providing advanced multicast filtering
Act as Aggregation Switch for Medium-sized Network
10G switch helps to resolve the congestion issue between network edge and core, which is caused by the broader adoption of Gigabit-to-the-desktop
10 Gigabit Ethernet provides better scalability than multiple Gigabit Ethernet links, resulting in a simplified and highly efficient network infrastructure
Up to eight 10 Gigabit Ethernet links can be aggregated into a virtual 80-Gbps connection
10 Gigabit Ethernet reduces cabling complexity and uses existing cabling efficiently
Smart IT
Easy to manage via web-Based Management GUI or Smart Control Center for multi-switch deployment
Standard-based technology, ensuring interoperability with any standard-based devices in the existing network
Dual firmware images, improving reliability and uptime to your network
Hardware Features
24 10GBase-T Connections: Support low-latency, line-rate 10G Copper "Base-T" technology with backward compatibility to Fast Ethernet and Gigabit Ethernet. Cost-effectively migrate current network to 10G capacity by utilizing the existing Cat6 RJ45 short connections (up to 300m) and Cat6A / Cat 7 connections up to 100m
4 (dedicated) SFP+ 10G Fiber Ports: Backward compatible to Gigabit fiber. Providing flexibility to uplink to 10G-capable core or aggregation switches that support fiber links
USB Port: Quickly and conveniently upgrade or restore firmware or load configuration settings file
Energy Efficient Ethernet (IEEE 802.3az): Maximum power reduction for ongoing operation cost savings
Software Features
Dynamic VLAN Assignment: IP phones and PCs can authenticate on the same port but under different VLAN assignment policies. Users are free to move around and enjoy the same level of network access regardless of their physical location in the network
Static Routing: A simple way to provide segmentation of the network with internal routing through the switch - reserving the router for external traffic routing only, making the entire network more efficient
Comprehensive IPv6 Support for management, ACL, and QoS: Build current network with future in mind. Ensure investment protection and a smooth migration to IPv6-based network without switch replacement
Private VLAN: Help reduce broadcast with added security
IGMP Snooping and MLD Snooping: Facilitate fast receiver joins and leaves for multicast streams. Save cost and improve network efficiency by ensuring multicast traffic only reaches designated receivers without the need of an extra multicast router
Robust security features: Build a secured, converged network with all types of traffic by preventing external attacks and blocking malware while allowing secure access for authorized users
802.1x authentication
Port-based security by locked MAC
ACL filtering to permit or deny traffic based on MAC and IP addresses
Comprehensive QoS features: Advanced controls for optimized network performance and better delivery of mission-critical traffic such as voice and video
Port-based or 802.1p-based prioritization
Layer 3-based (DSCP) prioritization
Port-based rate limiting
DHCP Snooping: Ensure IP address allocation integrity by allowing only clients with specific IP/MAC addresses to have access to the network
Dual firmware Images and configuration files: Dual firmware image and dual configuration file for transparent firmware updates/configuration changes with minimum service interruption
Protected Ports: Ensure no exchange of unicast, broadcast, or multicast traffic between the protected ports on the switch, therefore, improve the security of your converged network where your sensitive phone conversations can stay private and your surveillance video clips can be forwarded to their designated storage device without leakage or alteration
Dynamic VLAN Assignment (RADIUS): IP phones and PCs can authenticate on the same port but under different VLAN assignment policies. Users are free to move around and enjoy the same level of network access regardless of their physical location on the network
Private LAN: Private VLANs help reduce broadcast with added security