Dual GigE WAN Router/Firewall, IPSec, PPTP, SSL VPN, QoS

DrayTek DV2926 Dual GigE WAN Router/Firewall, IPSec, PPTP, SSL VPN, QoS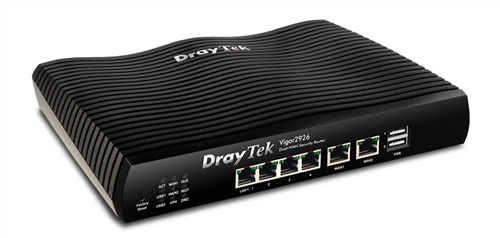 Dual Gigabit Ethernet WAN ports for failover and load-balancing
Two USB 2.0 ports for connection to 3G/4G LTE USB modems, FTP server or network printers
4 x Gigabit LAN ports with multiple subnets and 60,000 NAT sessions
50 x VPN tunnels with comprehensive secure protocols including 25 SSL VPN Tunnels
Fast VPN throughput, VPN load-balancing and backup for site-to-site applications
16 x VLANs for secure and efficient workgroup management
IPv6 & IPv4
High Availability mode
Object-based SPI Firewall and CSM (Content Security Management) for network security
Increased IP addresses (1022) and IP subnets (8)
Supports VigorACS 2 (Central Management system) for multi-site deployment
Central VPN Management for 8 remote Vigor routers
Central AP Management for deployment of multiple wireless VigorAPs
Free Smart Monitor Network Traffic Analyzer for 30-nodes
The Vigor 2926 series is DrayTeks dual-Ethernet WAN firewall for load-balancing or failover. It's also a fully featured firewall, VPN concentrator and content filtering device.
This latest router series includes support for professional features such as VLAN tagging, Gigabit Ethernet, built-in wireless LAN. It also includes support for other professional features such as VLAN tagging, QoS (Quality of Service Assurance), High Availability, DNS Filter, Policy Based Routing, and User Access Control. Wired and Wireless models also include the new Hotspot features. If you deploy DrayTek Wireless Access Points, the Vigor2926 can act as the Central Management Controller.
A 5-port Gigabit Ethernet switch on the LAN side of the Vigor 2926 provides high speed connectivity for your server, other local PCs or for uplink to a larger Ethernet switch. Comprehensive security features include content filtering, web application controls and an object based firewall management system. Port 5 is switchable with 'WAN2' to use it as an Ethernet WAN port instead of a LAN port.