U Fiber Nano GPON Optical Network Termination unit

Ubiquiti UF-NANO U Fiber Nano GPON Optical Network Termination unit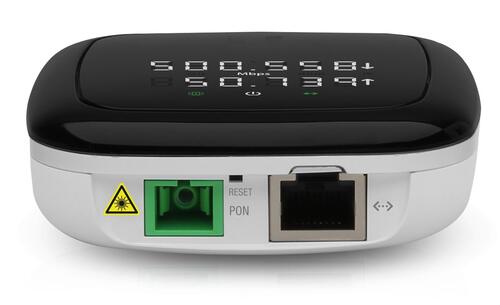 U Fiber Nano GPON Optical Network Termination with Power Supply.
The Ubiquiti UFiber Nano G is a robust, high-performance GPON CPE that features an informational LED display and a sleek, sophisticated industrial design.
The easy-to-read display provides status information: IP address, signal strength, and current throughput.
The Nano G is powered by 24V passive PoE – a single cable to carry both power and data. Up to 128 Nano G devices can be connected to a single GPON port. Supporting GPON links of up to 20 km, the Nano G integrates with the UFiber OLT (coming soon) and third-party OLT devices.
Power supply Included.
WAN: (1) GPON Port
LAN: (1) Gigabit Ethernet Port
GPON Speeds: 2.488 Gbps Downstream (RX), 1.244 Gbps Upstream (TX)
Wavelengths: 1490 nm Downstream (RX),1310 nm Upstream (TX)
Display: Digital LED for Status Reporting
Mounting: Wall-Mountable (Indoor)
Spec.
Interfaces : (1) GPON WAN, ITU G.984, 2.488 Gbps Downstream, 1.244 Gbps Upstream; (1) GbE LAN, 10/100/1000 Mbps
Management : In-Band Ethernet/PON
Normal Optical Power Range : TX (Class B+): 1.5 dBm to 5 dBm; RX: -8 dBm to -28 dBm
Power Method : 20V to 28V Passive PoE (Pins +4, 5; -7, 8); Dying Gasp Support
Power Consumption : 7W (Max)
Dimensions : 77 x 77 x 28 mm