48-Port Fully Managed Stackable Layer 3 Switch (48 x 1G ports with 2 x 10GBASE-T & 2 x SFP+)

NETGEAR GSM4352S-100AJS 48-Port Fully Managed Stackable Layer 3 Switch (48 x 1G ports with 2 x 10GBASE-T & 2 x SFP+)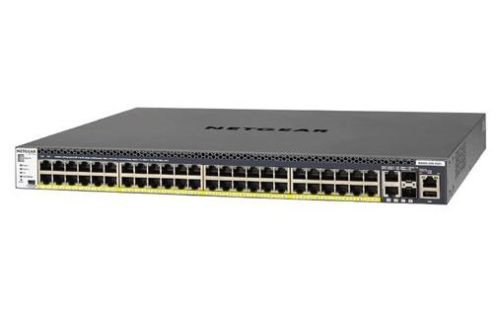 M4300-52G 48-Port Fully Managed Stackable Layer 3 Switch (48 x 1G ports with 2 x 10GBASE-T & 2 x SFP+).
The NETGEAR M4300 Stackable Switch Series delivers L2/L3/L4 and IPv4/IPv6 cost-effective services for mid-enterprise edge, and SMB core deployments with unrivalled ease of use.
10 Gigabit models can seamlessly stack with 1 Gigabit models within the series, enabling spine and leaf line-rate stacking topologies. Non-stop forwarding (NSF) virtual chassis architectures provide advanced High Availability (HA) with hitless failover across the stack. Dual redundant, modular power supplies equipping full width models contribute to business continuity management. Layer 3 feature set includes static, dynamic and policy-based routing – as standard. Perfect for wireless access, unified communications and IP video, the NETGEAR M4300 Switch Series is also ready for the future, with Software-defined Network (SDN) and OpenFlow 1.3 enabled for your network.
NETGEAR Intelligent Edge Switch solutions combine the latest advances in hardware and software engineering for higher flexibility, lower complexity and stronger investment protection, at a high-value price point.
• 48-port 1000BASE-T (RJ45)
• 2-port 10GBASE-T (RJ45) all independent
• 2-port 10GBASE-X (SFP+) all independent
• 176Gbps non-blocking fabric across 52 ports
• Out-of-band 1G Ethernet Management port
• Mini-USB and RJ45 RS232 console ports and USB storage port
• Full L3 feature set and non-stop forwarding (NSF) stacking
• Full width form factor with one-unit rack mount kit
• Ships with one modular APS150W PSU in first power supply slot
• Ship with a blank cover in the second power supply slot
• Low acoustics (31.5dB @25°C / 77°F)