UniFi Switch 16 Gigabit Ethernet Ports, 24V / 802.3af / 802.3at PoE, (150W max), 2 SFP Ports

Ubiquiti US-16-150W UniFi Switch 16 Gigabit Ethernet Ports, 24V / 802.3af / 802.3at PoE, (150W max), 2 SFP Ports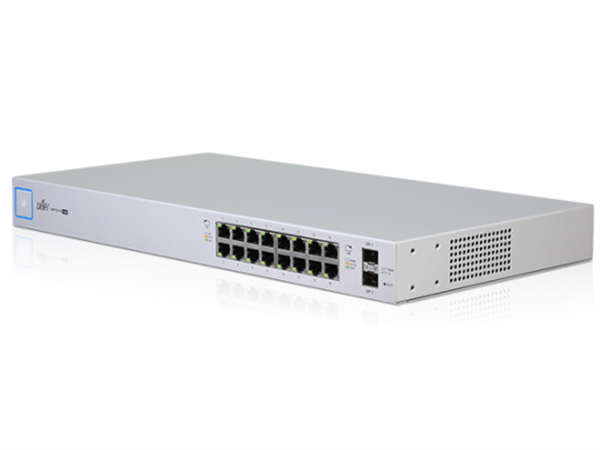 With 16 auto-sensing Gigabit Ethernet ports, the UniFi Managed PoE+ Gigabit 16 Port Switch with SFP from Ubiquiti Networks is capable of providing a stable, reliable network connection to a large number of Ethernet enabled devices.
Add in 802.3af/at PoE compatibility and 150W of available PoE+ power, and this managed switch is capable of powering a variety of PoE compatible network components such as access points, VoIP phones, and much more.
Along with Gigabit Ethernet connectivity users can connect high speed storage devices to either of the two SFP ports.
Once configured, Ubiquiti's own UniFi controller software makes network configuration and management simple as you can manage PoE settings, operation modes, VLAN configuration, storm control settings per port, and much more.
Process All Ports at Line Rate / No Loss
Up to 18 Gbps Non-Blocking Throughput
36 Gbps Switching Capacity
150W Maximum Power Consumption
Custom Settings per Port
2 SFP Ports - Up to 1 Gbps Fiber Uplinks
Auto-Sensing IEEE 802.3af/at
24V Passive PoE
26.78 Mpps Forwarding Rate
UniFi SDN Platform Seamless Integration
Total Non-Blocking Throughput

18 Gbps

Switching Capacity

36 Gbps

Forwarding Rate

26.78 Mpps

Maximum Power Consumption

150 W

Power Method

100 to 240 VAC, 50 to 60 Hz, Universal Input

Power Supply

AC/DC, Internal, 150 W DC

LEDs

RJ45 Data Ports: PoE, Speed/Link/Activity
SFP Data Ports: Speed/Link/Activity

Ethernet Networking Interfaces

16 x 10/100/1000 Mb/s RJ45 Ethernet Ports
2 x 1 Gbps SFP Ethernet Ports

Management Interface

1 x RJ-45 Serial Port (Reserved for Future Use), Ethernet In/Out Band

Certifications

CE, FCC, IC

Rackmount

Yes, 1U High

ESD/EMP Protection

Air: ±24 kV, Contact: ±24 kV

Shock and Vibration

ETSI300-019-1.4 Standard

PoE

POE+ IEEE 802.3af/at (Pins 1, 2+; 3, 6-)
24 VDC Passive PoE (Pins 4, 5+; 7, 8-)
Maximum PoE+ Wattage per Port by PSE: 34.2 W

Voltage Range

802.3at Mode, 50 to 57 V

Maximum PoE Wattage Per Data Port

17 W

System Requirements

Linux, Mac OS X, or Microsoft Windows 7/8
Java Runtime Environment 1.6 (or above)
Web Browser: Mozilla Firefox, Google Chrome, or Microsoft Internet Explorer 8 (or above)

Operating Temperature

-5 to 40°C

Operating Humidity

5 to 95%, non-condensing

Dimensions

443 x 43 x 221 mm

Weight

2.89 kg
Auto-sensing IEEE 802.3af/at PoE
16 x Gigabit RJ-45 ports, 2 x SFP ports
1 Serial console port (reserved for future use)
Non-blocking throughput of up to 18 Gbps
Switching capacity: 36 Gbps
Forwarding rate of up to 26.78 Mpps
Maximum power consumption of 150W
Supports POE+ IEEE 802.3af/at and 24V Passive PoE
Rack mountable
Designed for convenient management, the UniFi Controller software (not included) allows administrators to configure and monitor the UniFi Switch and other UniFi devices using a graphical user interface.
Total Non-Blocking Throughput

18 Gbps

Switching Capacity

36 Gbps

Forwarding Rate

26.78 Mpps

Maximum Power Consumption

150 W

Power Method

100 to 240 VAC, 50 to 60 Hz, Universal Input

Power Supply

AC/DC, Internal, 150 W DC

LEDs

RJ45 Data Ports: PoE, Speed/Link/Activity
SFP Data Ports: Speed/Link/Activity

Ethernet Networking Interfaces

16 x 10/100/1000 Mb/s RJ45 Ethernet Ports
2 x 1 Gbps SFP Ethernet Ports

Management Interface

1 x RJ-45 Serial Port (Reserved for Future Use), Ethernet In/Out Band

Certifications

CE, FCC, IC

Rackmount

Yes, 1U High

ESD/EMP Protection

Air: ±24 kV, Contact: ±24 kV

Shock and Vibration

ETSI300-019-1.4 Standard

PoE

POE+ IEEE 802.3af/at (Pins 1, 2+; 3, 6-)
24 VDC Passive PoE (Pins 4, 5+; 7, 8-)
Maximum PoE+ Wattage per Port by PSE: 34.2 W

Voltage Range

802.3at Mode, 50 to 57 V

Maximum PoE Wattage Per Data Port

17 W

System Requirements

Linux, Mac OS X, or Microsoft Windows 7/8
Java Runtime Environment 1.6 (or above)
Web Browser: Mozilla Firefox, Google Chrome, or Microsoft Internet Explorer 8 (or above)

Operating Temperature

-5 to 40°C

Operating Humidity

5 to 95%, non-condensing

Dimensions

443 x 43 x 221 mm

Weight

2.89 kg