Indoor Dome IP Night Camera (body), 6MP (add lens)

MOBOTIX MX-V26A-6N Indoor Dome IP Night Camera (body), 6MP (add lens)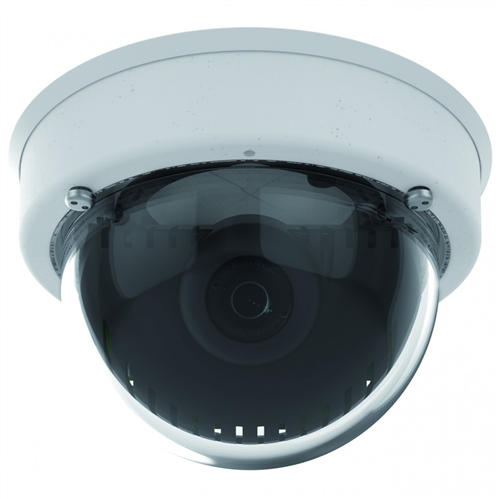 Perfect Protection, Professional Features
6MP MiniDome Indoor Camera
Standalone: Full functionality @ zero bandwidth

Video Sensor: MxActivitySensor reducing false alarms

Event Recording: Onboard (SD card) & direct to NAS

MxAnalytics: Heat map & people counting

Alarm Notification: E-mail, FTP & VoIP (SIP)

Communication: Two-way audio option

Power: Standard PoE below 4W
Competitive and Professional
The new v26 camera is the first MOBOTIX anti-vandalism indoor camera. The customer gets a complete standalone video surveillance system, including SD card or NAS event recording, alarming, professional video management (VMS) and video analysis functions like heat map and object statistics.
Moonlight Technology
The v26 includes the successful MOBOTIX 6 megapixel Moonlight sensor technology, the new benchmark in light sensitivity, to realize high quality video especially in lowlight situations (< 1 lux). The v25 is compatible with all standard lens options including the new 103° lens to cover a complete room without any blind spots. Also included is MxActivitySensor to avoid false alarms.
Models:
V26 Body (add lenses)

V26 with B036 lens (103°)

Indoors:

Indoor (IP20), 0...+40 °C

Indoor (IP20), 0...+40 °C

Lenses:
(35 mm equivalent)

Camera body only, can be equipped with lenses
B036 - B237
(103° - 15°)

Camera body equipped with lens B036 (103°)

Max. image size:

6 MP (3072 x 2048 pixels)

6 MP (3072 x 2048 pixels)

Zoom/Pan:

Continuous up to 8x Zoom + Pan/Tilt (digital)

Continuous up to 8x Zoom + Pan/Tilt (digital)

Max. framerate:

42@HD • 34@FullHD • 12@6MP

42@HD • 34@FullHD • 12@6MP

Sensitivity:

Day: 0.1 lux (t=1/60s) • 0.005 lux (t=1/1s)
Night: 0.02 lux (t=1/60s) • 0.001 lux (t=1/1s)

Day: 0.1 lux (t=1/60s) • 0.005 lux (t=1/1s)

Interfaces:

Ethernet (MxRJ45), MiniUSB • with optional MxBus IO module 2 additional outlets

Ethernet (MxRJ45), MiniUSB • with optional MxBus IO module 2 additional outlets

Internal DVR:

MicroSD card (4 GB card pre-installed)

MicroSD card (4 GB card pre-installed)

Audio/Telephony:

Audio optional via ExtIO;
On-wall set with integrated microphone and speaker

Audio optional via ExtIO;
On-wall set with integrated microphone and speaker

Power supply:

PoE (IEEE 802.3af, class 2), consumption typ. 4 watts

PoE (IEEE 802.3af, class 2), consumption typ. 4 watts

Software functions:

Intelligent video analysis • digital zoom • programmable exposure windows • single image recording • Full
Featured Recording (MxFFS Archive, Continuous Recording, Full Image Recording) • Time and event driven • Week programs incl. public holidays • web functions • Logo generator • Linked event logic • Master/Slave activation • several time-driven privacy zones • Remote activation • program interface/HTTPAPI

Intelligent video analysis • digital zoom • programmable exposure windows • single image recording • Full
Featured Recording (MxFFS Archive, Continuous Recording, Full Image Recording) • Time and event driven • Week programs incl. public holidays • web functions • Logo generator • Linked event logic • Master/Slave activation • several time-driven privacy zones • Remote activation • program interface/HTTPAPI

Arming • Triggering:

365-day schedule • multiple events

365-day schedule • multiple events

External storage:

On PC/Server/NAS

On PC/Server/NAS

Article No.:

Mx-v26A-6D : Day version, body white

Mx-v26A-6N : Night version, body white

Mx-v26A-6D-b : Day version, body black

Mx-v26A-6N-b : Night version, body black

MX-v26A-6D036

HD Premium Lens options for the V26 series:

MX-B036 Ultra Wide, 103°x77°

MX-B041 Super Wide, 90°x67°

MX-B061 Wide, 60°x45°

MX-B079 Standard, 45°x34°

MX-B119 Tele, 31°x23°

MX-B237 Distance Tele, 15°x11°