ADSL2+ Router, 4 LAN ports, PPPoE/ PPPoA Relay, 802.11b/g/n Wireless

DrayTek DV2710NE ADSL2+ Router, 4 LAN ports, PPPoE/ PPPoA Relay, 802.11b/g/n Wireless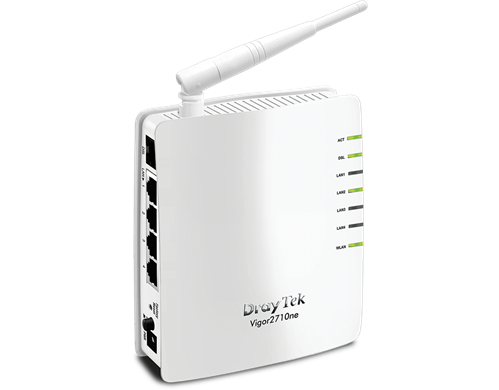 DrayTek realizes the ideal networking device for residential users should meet the infrastructure they are located, guarantee reliable services they need as well as the simple configuration /installation and decent appearance for their daily-use at home.
Keep this in mind, the Vigor 2710ne is an ADSL2/2+ router with firewall features. Function-wise, it can provide secure Internet access and ensure high quality multimedia streaming for home entertainment through user-friendly configuration /installation in DSL environment. In addition, the eye-catching exterior design of Vigor2710ne makes a network device fit your interior design at home.
Built-in ADSL2+ modem for fast Internet access
4-Port 10/100BaseT Ethernet switch for LAN connection
IEEE 802.11n Wireless LAN with Wireless Isolation
Object-based SPI Firewall with DoS defense
Support TR-069 for VigorACS SI Central Management
User-friendly ADSL2/2+ Router
The Vigor2710e/ne provides users with fast and stable access to the Internet by means of ADSL2/2+ broadband. The online-gaming, multimedia (audio/video)-streaming, file downloading, Internet surfing can be simultaneous available for family members. Its well-structured Web User Interface and Quick Start Wizard simplify configuration and management.
Let Vigor2710e/ne get the jobs done by itself without extra maintenance.
Comprehensive Security
Vigor2710ne is a compact ADSL2+ router, DrayTek also offers enhanced security protection for your network. The DoS /DDoS attack prevention, SPI, multi-NAT, DMZ host, Port-redirection, Open Port, and MAC address filter strengthens the security outside and inside the network.
While coverage of WLAN network is extended by 802.11n, the MAC address access control, WLAN isolation, the encryption methods of WEP/WPA/WPA2 consist of better wireless security. In considering easy-setup, the hardware WPS button lets users just single click to build up a secure WLAN network.
Make security without compromise or bothersome configuration.
802.11n WLAN network
The Vigor2710ne is embedded with 802.11n WLAN network, which offers users stable and reliable wireless connections for high speed multimedia and data traffic. Vigor2710ne is also backwards compatible with any IEEE802.11b/g Wi-Fi certified device.
Hardware Interface

4 x 10/100M LAN Switch , RJ-45


1 x ADSL2/2+ Port, RJ-11(Annex A) or RJ-45(Annex B)

1 x Fixed Antenna

1 x Factory Reset Button

1 x Power On/Off Button

1 x WPS Button(ne Model)

Temperature

Operating : 0°C ~ 45°C

Storage : -25°C ~ 70°C

Humidity

10% ~ 90% (non-condensing)

Max. Power

10 Watt

Dimension

H132 * W112 * D41 (mm)

Power

ON/OFF Switch
12~15VDC,0.5-0.4A,6W