Indoor/Outdoor 6 Megapixel (night) Dome IP Camera Body (add lens)

MOBOTIX MX-D25-BOD1-N Indoor/Outdoor 6 Megapixel (night) Dome IP Camera Body (add lens)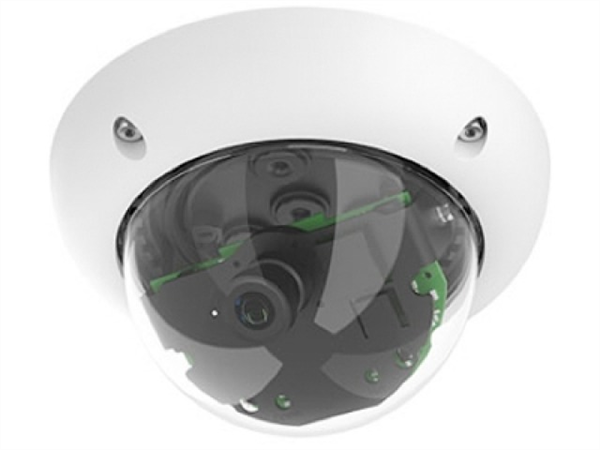 D25 camera module (body) with 6 Megapixel Moonlight Sensor, Black and White Image Sensor (for night)
• Lens to be ordered individually (MX-B036 to MX-B237)
• Max. image size: 6MP (3072 x 2048)
• IP65, -30 to 50°C
• Internal DVR: 4 GB microSD
• Temperature sensor, shock detector, MxAnalytics, MxActivitySensor, ethernet patch cable 0.5 m/1.6 ft
• Interfaces: Ethernet 10/100 (RJ45), MxBus, USB; I/O and RS232 via Interface Box (MOBOTIX accessory)
The Mobotix night sensor module provides better image quality in poor lighting conditions, as the camera uses a real infrared sensitive, black-and-white image sensor instead of the usual colour sensor.
Colour sensors have electronic colour fade-out, whereby the infrared sensitivity is reduced through the integrated colour filters.
*Note. This requires an infrared illumination if it is going to be installed in a very low or no light environment.
Available HD lenses from Ultra Wide Angle (103°) to Distant Telephoto (15°) for MOBOTIX cameras with 6 MP image sensor.
Ultra Wide Lens MX-B036 (103° x 77°)
Super Wide Lens MX-B041 (90° x 67°)
Wide Lens MX-B061 (60° x 45°)
Standard Lens MX-B079 (45° x 34°)
Tele Lens MX-B119 (31° x 23°)
Distant Telephoto Lens MX-B237 (15° x 11°)
D25 camera module (body) with 6 Megapixel Moonlight Sensor, B/W (night)
• Lens to be ordered individually (MX-B036 to MX-B237)
• Max. image size: 6MP (3072 x 2048)
• IP65, -30 to 50°C (-22 to 122°F)
• Internal DVR: 4 GB microSD
• Temperature sensor, shock detector, MxActivitySensor, MxAnalytics, ethernet patch cable 0.5 m/1.6 ft
• Lens cover with sealing ring (polycarbonate, 1.5 mm)
• Interfaces: Ethernet 10/100 (RJ45), MxBus, USB; I/O and RS232 via Interface Box (MOBOTIX accessory)