3G/4G LTE Rugged Router, 3x Ethernet, Serial Port

Cradlepoint IBR1150LP3-EU 3G/4G LTE Rugged Router, 3x Ethernet, Serial Port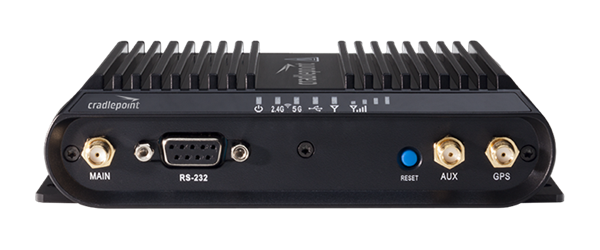 Highly Available Networking for Extreme Conditions
The CradlePoint COR IBR1100 Series routers (IBR1100 and IBR1150) are compact, ruggedized 3G/4G/LTE networking solution designed for mission critical connectivity in the most challenging environments.
Ideal for in-vehicle networks including police cars, ambulances, and mass transit, this cloud-managed solution provides organizations the ability to scale deployments quickly and manage their vehicle networks easily in real-time.
With an extensive list of safety and hardening certifications, the COR IBR1100 series is engineered to protect against extreme temperatures, humidity, shocks, vibrations, dust, water splash, reverse polarity and transient voltage.
*Note there are many options for powering this router, and various antenna choices. It comes with an open ended power cord for powering via vehicle battery. If you need a wall plug power adapter please order '170584-000' wall power adapter. And refer to our antenna section for antenna choices.
Key Features
• Cloud-managed for zero-touch deployment and intelligent management
• Internal 3G/4G modem with secured SIM card access and dual SIM slots
• LTE support for all major U.S. carriers and Europe/international operators (failover to HSPA+ or EVDO)
• Software-defined radio supports multiple carriers (Gobi)
• WiFi (IBR1100) and non-WiFi versions (IBR1150) available: IBR1100 includes dual-band dual concurrent 2.4/5 GHz 802.11 a/b/g/n/ac WiFi; 2 x 2 MIMO with two external dual-band antenna connectors
• Ignition sensing
• Ruggedized: protects against vibration, shock, dust, splash, & humidity
• Built-in transient and reverse polarity voltage protection; 9–36 DC voltage input range
• Integrated temperature sensor
• Three Ethernet ports (LAN/WAN configurable)
• Antenna connectors for external cellular modem (two) and active GPS (one)
• RS-232 serial port

What's In The Box
• Ruggedized router with integrated business-class 3G/4G modem; includes integrated mounting plate
• Two meter locking power and GPIO cable (direct wire)
• Quick Start Guide with warranty information

NOTE: Due to the diverse needs of customers, the COR IBR1100/IBR1150 package does not include a power adapter or antennas. See the antenna and power sections for antenna options.