Unified Threat Management Appliance VPN Router, Firewall, 802.11b/g/n, WiFi, 3x 10/100/1000 Ethernet ports, 400 Mbps Firewall Throughput, 6

Cyberoam CRI-10WING Unified Threat Management Appliance VPN Router, Firewall, 802.11b/g/n, WiFi, 3x 10/100/1000 Ethernet ports, 400 Mbps Firewall Throughput, 6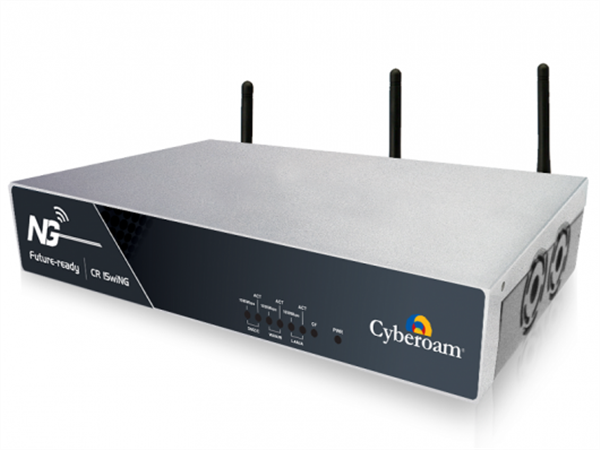 CR10WING, Unified Threat Management Appliance VPN Router, Firewall, 802.11b/g/n, WiFi, 3x 10/100/1000 Ethernet ports, 400 Mbps Firewall Throughput, 60 Mbps UTM Throughput.
The CR10wiNG wireless appliance supports 802.11 n/b/g standards and up to eight virtual access points. It delivers UTM security features over WLAN to offer enterprise-level security and meet the requirement of mobility in this segment. Cyberoam CR10wiNG offers high performance with firewall throughput of 400Mbps and UTM throughput of 60Mbps.
Cyberoam UTM appliances deliver unified security over a single console, enabling small offices to shift from plain firewalls to comprehensive UTM protection with cost-effective, yet powerful security against malware, spam, Trojans, DoS, DDoS, phishing, pharming and intrusions. At the same time, large organizations can implement uniform security and gain high visibility into remote and branch offices with centralized management and Layer 8 Identity-based security. These offices also gain secure remote access, redundant WAN connectivity and availability, data leakage protection and advanced networking features.

Wireless standards: IEEE 802.11 a/b/g/n (WEP, WPA, WPA2, 802.11i , TKIP, AES, PSK)
CRI-10iNG Hardware Specifications
Copper GbE Ports: 3
Console Ports (RJ45): 1
USB Ports: 2
Configurable Internal/DMZ/WAN Ports
System Performance*
Firewall Throughput (UDP) (Mbps) : 400
Firewall Throughput (TCP) (Mbps) : 300
New sessions/second :2,000
Concurrent sessions : 27,500
IPSec VPN Throughput (Mbps) : 100
No. of IPSec Tunnels : 25
SSL VPN Throughput (Mbps) : 25
Anti-Virus Throughput (Mbps) : 100
IPS Throughput (Mbps) : 90
UTM Throughput (Mbps) : 60
# If Enabled, will bypass traffic only in case of Power failure.
* Antivirus, IPS and UTM performance is measured based on HTTP traffic as per RFC 3511 guidelines. Actual performance may vary depending on the real network traffic environments.
UTM features available straight out of the box. No per user license fees or restrictions on:
User Identity-based Firewall
User Identity-Based Reporting
VPN - IPSec, PPTP, SSL
Real-time Blacklist
Bandwidth Management
Multiple Link Management
Application Layer 7 Management
IM Management & Control
Optional Subscriptions: (contact us for pricing options)
Basic 8x5 Support: NZ Business Hours Phone, Email and Web Chat support, firmware upgrades , hardware warranty RMA fulfilment
Premium 24x7 Support: 24x7 Phone, Email and Web Chat support, firmware upgrades, hardware warranty RMA fulfilment
Warranty Extensions : Extend your hardware warranty period
Optional Subscription Bundles: (contact us for pricing options)
Security Value Subscription: Cyberoam Security Value Subscription includes Anti Malware, Web and Application Filter and Intrusion Prevention System, 8x5 Support, hardware warranty RMA fulfilment
Security Value Subscription Plus: Cyberoam Security Value Subscription Plus includes Anti Malware, Web and Application Filter, Intrusion Prevention System , 24x7 Support, hardware warranty RMA fulfilment
Total Value Subscription: Cyberoam Total Value Subscription includes Anti Malware, Anti-Spam, Web and Application Filter and Intrusion Prevention System, 8x5 Support, hardware warranty RMA fulfilment
Total Value Subscription Plus: Cyberoam Total Value Subscription Plus includes Anti Malware, Anti-Spam, Web and Application Filter, Intrusion Prevention System, 24x7 Support, hardware warranty RMA fulfilment