PRO Smart Signal Booster for Spark 3G, 4G and LTE

Cel-Fi RPR-CF-00206 PRO Smart Signal Booster for Spark 3G, 4G and LTE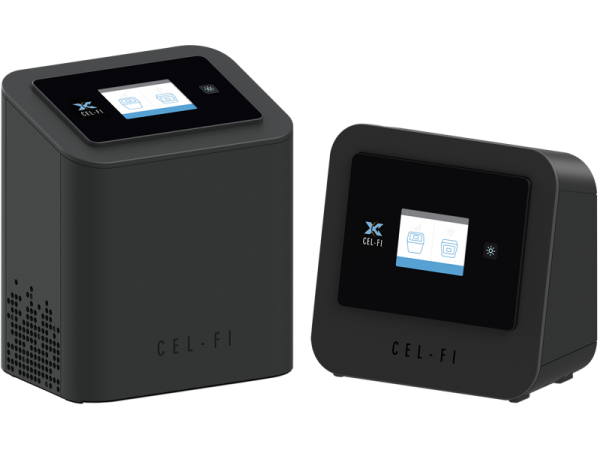 Easy 5 Minute Setup
Up to 900m² indoor coverage area
Locked to the Spark Mobile Network
Mobile Network Protection
External Antenna Port
LCD Display
Bluetooth WAVE App for iPhone, Android & Computers
Insanely Simple Installation. See the video here : https://youtu.be/cYjzPhu2kMQ
Nextivity's third generation Cel-Fi PRO is a cost-effective and intelligent indoor coverage solution for the Spark 3G and 4G networks. It is designed to dramatically boost indoor voice quality and increase data speeds.
The Cel-fi PRO differs greatly from the standard indoor repeater due to its ability to not interfere with the mobile network or other users. Often referred to as a Smart Repeater, the Cel-Fi has the ability to provide maximum coverage, be network friendly and can be easily installed by the end user.
It does this in several ways by
continuously monitoring power levels of the cell tower it is connected to and constantly adjusting the Cel-Fi's output power to suit.
only amplifying and disbursing a particular carrier's mobile signal, operating within a set frequency band.
not interfering with the carrier's network or other users on the network.
having a unique installation process to eliminate feedback into the mobile network.
Improved Voice Coverage: Enables clear and reliable voice connections within the coverage area —13,000 Sq. Ft.
Improved Data Throughput: For indoor areas with poor reception, Cel-Fi offers significant data throughput improvements — often achieving a 4x improvement.
Improved Battery Life: Cel-Fi manages the power levels between the cell tower and user devices so that subscriber devices enjoy significant improvements in battery life.
Ease of Installation: Cel-Fi is a true "Plug and Play" system that doesn't require the installation of external antennas, bulky coaxial cables or a configuration set-up by the subscriber.
In fact, Cel-Fi intelligently and automatically senses and adapts to its environment — including changes made by the Operator or those caused by nearby user equipment like WiFi, or other Cel-Fi devices.
Network-Safe Features
• Securely provisioned operation with ciphered software which only operates on authorized Operator's network.
• Network-Safe software prevents uplink system gain from exceeding path loss, and eliminates unnecessary rise in base station noise level.
• Uplink Muting Mode automatically shuts down uplink cellular transmissions when no active user equipment is detected.
• Embedded software ensures optimal performance and prevents out-of-specification operation.
• System shuts down upon Operator's network command or failure detection.
• Maintains end-to-end cellular communication encryption without additional risk of vulnerability.
• Peaceful coexistence with adjacent Cel-Fi systems, 802.11a/ac/b/g/n, cellular, and femtocell devices.
High-Level Specifications
• Support for 3GPP HSPA Rel. 10 features and 3GPP LTE Release 10 Features
• 5GHz link compliant with FCC Part 15 and EN 301 893
• Up to 100dB path loss between units (approximately 20 meters between NU and CU)
• Max EIRP for Multiple carriers: 22dBm downlink & 29dBm uplink
• Currently available in two Quad-Band configurations (I/III/VII/VIII or II/IV/V/XII)
• Auto-Configuring "All band scanning" feature to self adjust as Network channels change
• Up to 100dB system gain