5GHz 20dBi outdoor CPE (endpoint client device)

Mimosa C5 5GHz 20dBi outdoor CPE (endpoint client device)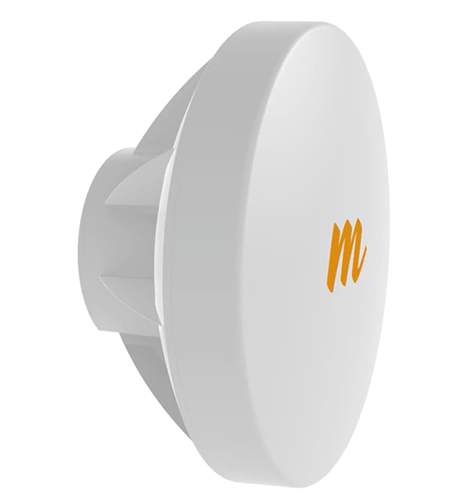 Mimosa C5 Outdoor 5GHz 20dBi WiFi PoE Access Point (866Mbps AC)
The Mimosa C5 Outdoor 5GHz 20dBi WiFi PoE Access Point is a high gain, high throughput client device that can be dropped into any WiFi-compatible network. This Mimosa C5 Outdoor 5GHz 20dBi WiFi PoE Access Point features an antenna-integrated for longer distance applications. Designed for NLOS applications, it easily attaches to any standard J-mount for typical eave or rooftop mounting. This Mimosa C5 can also use Mimosa's customised J-mount accessory for finer adjustment capabilities*. Furthermore, this Mimosa C5 has incredibly high gain. With 20 dBi, the client can reach access points up to 10+ km away.
Gigabit Ethernet - 10/100/1000-BASE-T.
Multi-User MIMO - CPE is MU-MIMO-capable.
Management Services - Mimosa cloud monitoring and management SNMPv2.
Smart Spectrum Management - Active scan monitors and logs.
Security - WPA2 + Mimosa 802.1x Client.
QoS - Supports 4 pre-configured QoS levels.
Max Throughput - 500+ Mbps (866 Mbps PHY).
PoE Power Supply - Passive POE compliant, 48-56 V Power over Ethernet.
Frequency Range - 4900-6000 MHz restricted by country of operation.
Mounting - Single pole strap feed point integrated into plastic back plate.
Outdoor long range WiFi
This Mimosa C5 Outdoor 5GHz 20dBi WiFi PoE Access Point constantly analyses spectrum conditions and reports usable channels back to the Mimosa Cloud. The access point utilises this information to optimise channel usage and performance. This Mimosa C5 also employs a Gigabit Ethernet port for up to 500+ Mbps to the client premise.
Super compatible, super performance
Migrating to a Mimosa network? We have you covered with standard 802.11n compatibility. Switch your client to WiFi mode and connect to any access point in your network. When connecting with your Mimosa access point, choose TDMA mode for the highest possible efficiency. Mimosa Flexible TDMA uses a client upstream request-based system to help eliminate unused timeslots and improve network performance.
Performance
Max Throughput
500+ Mbps (866 Mbps PHY)
Low Latency
8 ms
Wireless Protocols
CSMA
Mimosa Flexible TDMA
Modes
Client Mode Only
Radio
MIMO & Modulation
2x2:2 MIMO OFDM up to 256 QAM
Bandwidth*
20/40/80 MHz channels tunable to 5 MHz increments
Frequency Range
4900-6000 MHz restricted by country of operation (*new* US/FCC 5600-5650 support)
Max Output Power
20 dBm
Sensitivity ( MCS 0 )
-87 dBm @ 80 MHz
-90 dBm @ 40 MHz
-93 dBm @ 20 MHz
Antenna
Gain
20 dBi
Beamwidth ( 3dB )
14° (azimuth and elevation)
Cross-Polar Isolation
>20 dB
Polarisation
Dual 45° slant polarisation
Power
Max Power Consumption
15 W
System Power Method
802.3at compliant
PoE Power Supply
Passive POE compliant, 48-56 V Power over Ethernet supply with IEC61000-4-5 surge protection
Physical
Dimensions
Width: 153.31 mm Diameter: 260.33 mm
Weight
0.72 Kg
Enclosure Characteristics
Outdoor UV stabilized plastic
Wind Survivability
200 km/h (125 mph)
Wind Loading
39 kg @ 160 km/h (86 lbs @ 100 mph)
Mounting
Single pole strap feed point integrated into plastic back plate with integrated curvature for contact with mounting poles. Azimuth and Elevation adjustability only provided via J-mount elevation adjustment and hose clamp loosened rotation on the pole.
Environmental
Operating Temperature
-40C to +55C (-40F to 131F)
Operating Humidity
5 to 100% condensing
Operating Altitude
4420 m (14500') maximum
Shock & Vibration
ETS 300-019-2-4 class 4M5
Features
Gigabit Ethernet
10/100/1000-BASE-T
Multi-User MIMO
CPE is MU-MIMO-capable
Management Services
Mimosa cloud monitoring and management SNMPv2 & Syslog legacy monitoring HTTPS HTML 5 based Web UI
Smart Spectrum Management
Active scan monitors/logs ongoing RF interference across channels (no service impact)
Dynamic auto-optimization of channel and bandwidth use
Security
WPA2 + Mimosa 802.1x Client
QoS
Supports 4 pre-configured QoS levels