Pro 9450 DECT Wireless Mono Desk & Softphone

Jabra JABRAPRO9450 Pro 9450 DECT Wireless Mono Desk & Softphone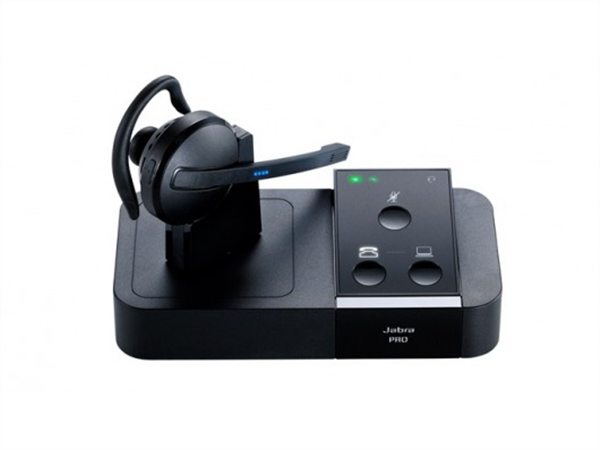 Easy integration with your chosen UC platform.
Monaural, one ear design allows the user to be engaged in the office when not on the phone
Noise Canceling microphone with DSP
Dual connectivity: simple and user-friendly handling of calls from either desk or softphone
Get started in minutes with the Interactive Setup wizard
4-way call handling: via headset, touch pad, PC Call Manager or keyboard shortcut
Built-in ringer in headset base
Wideband sound (150 Hz – 6,800 Hz)
Choice of 3 wearing styles to suit individual users (neckband as accessory)
Easy installation and upgrades
Future-proof investment with free software upgrades via Jabra PC Suite
One year warranty
DECT 6.0 connection from base to headset, no interference
Up to 450 ft range from the base
Up to 8 hours talk time between charges
46 hours standby time
The Jabra PRO 9450 is part of the Jabra PRO 9400 series of Dect wireless headsets. The single ear PRO 9450 has three different wearing styles and can be used with both desk phones and UC softphones.
Jabra PRO 9450 is 100% software based providing investment protection by lowering your total cost of ownership. The system comes with free mass deployment software via Jabra PC Suite to facilitate installations that can be updated easily with drivers for new phones and new features as technology evolves. Being compatible with all leading brands of desk phones and Unified Communications applications, Jabra PRO 9450 wireless headset supports easy integration with your chosen UC platform.