Outdoor 6 MP Dual Lens Dome IP Camera (Lenses ordered separately)

MOBOTIX MX-D15DI-SEC Outdoor 6 MP Dual Lens Dome IP Camera (Lenses ordered separately)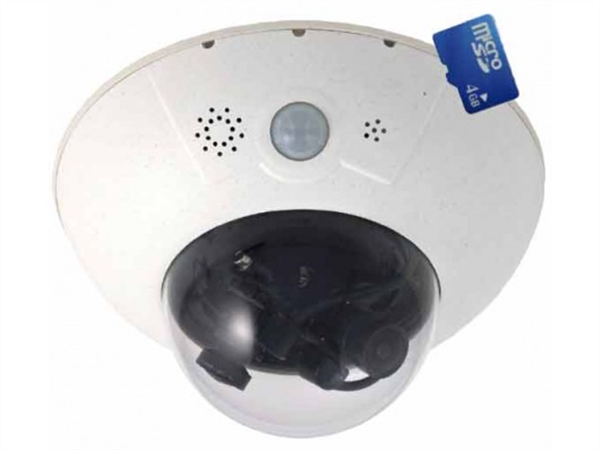 Day or Night Functionality
Accepts Dual Lenses
Built-In DVR for On-Camera Recording
Digital PTZ for Adjustments
Integrated Microphone and Speaker
MOBOTIX Application for Mobile Viewing
Compatible with Mac and Windows
Weatherproof, IP66-Rated
Designed with two separate lens mounts, the D15 6MP Day/Night Dome Camera from MOBOTIX enables you to view and manage two separate areas at once when used with compatible lenses (available separately). Compatible with wide lenses, standard lenses, tele lenses, and distant tele lenses from MOBOTIX, the camera offers a wide variety of viewing angles as well as day or night functionality. Digitally pan, tilt, and zoom both lenses (available separately), so you can change your viewing angle without physically moving the camera. MxPEG, MJPEG, JPEG, or H.264 compression formats are available for conserving space and bandwidth when archiving data. The built-in DVR includes a 4GB microSD card which can be replaced with a microSD card up to 128GB, providing local storage for recording over long periods of time without overloading your network.

An integrated microphone, a speaker, and a sound-recording feature enable you to customize voice messages and record footage with sound. The DVR uses MxManagementCenter software for video management and is compatible with a MOBOTIX application for controlling and managing your camera from a mobile device. Internal temperature, microphone, illumination, and shock detector sensors alert you to possible system malfunctions and vandalism. Ethernet, MxBus, and USB interfaces are provided for multiple connection options, and the package includes a tinted dome, which can be exchanged with the pre-installed transparent dome, for concealing the exact angles of the lenses. This camera operates with built-in firmware allowing remote access from Windows and Mac computers via a web browser, or using the free MOBOTIX app for iOS.
Note: Lenses are required for use and are available separately.
Dual lens mounts and image sensors allow you to monitor two areas simultaneously
Viewing and recording in high definition
Built-in DVR for continuous recording without overloading your network
microSD slot accepts up to 128GB cards (included 4GB microSD card)
Digital PTZ for adjusting the viewing angle
Integrated microphone and speaker for intercom and sound-recording functions
MOBOTIX application enables viewing and management from your mobile device
PIR detects motion through heat sensors
Included tinted dome cover conceals the lenses' viewing direction
Up to 50 pre/post-alarm images
Playback in both quad view and multi view
Remote alarm notifications
Programmable recording schedule for weekdays and holidays
Customizable voice messages
IP54, IP65, and IP66 ratings for weatherproof applications
IP camera module for connecting one or two lens units or a double lens carrier FIX/PAN (to be ordered individually)
• Image sensor options (via lens unit/carrier): 6 megapixels, color (day) and/or B/W (night)
• Lens options (via lens unit): L20/B036 to L135/B237, horizontal image angle 103° to 15°
• Max. image size (per image sensor): 6MP (3072 x 2048 pixels)
• Operating conditions: IP54 without accessories, IP65/IK10 with Outdoor Wall Mount or IP66/IK10+ with Vandalism Set, each -30 to 60°C (-22 to 140°F)
• Internal DVR: 4 GB MicroSD • Camera components: speaker, microphone, PIR sensor, temperature sensor, shock detector, MxActivitySensor, ethernet patch cable 0.5 m/1.65 ft
• Incl. two lens covers (1x Standard, 1x XL)
• Interfaces: Ethernet 10/100 (RJ45), MxBus, USB; IO and RS232 via additional MX Interface Box