Ceiling Mount Wireless Access Point, 802.11 b/g/n, 300 Mbps, PoE A15CTCHNE

SOPHOS AP15C Ceiling Mount Wireless Access Point, 802.11 b/g/n, 300 Mbps, PoE A15CTCHNE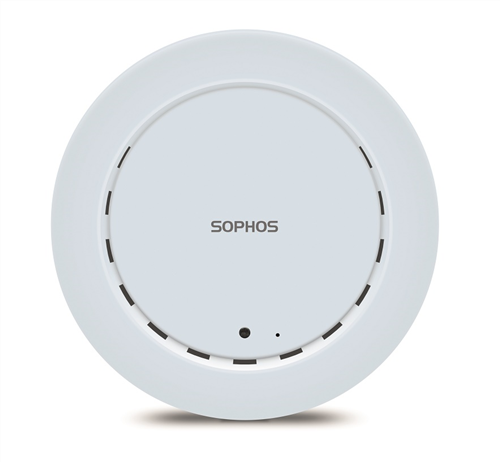 AP 15C ceiling mount access point (PoE injector not included)
Get secure and reliable wireless access all over the office
Simplify your wireless networking by using Sophos UTM as a wireless controller to centralize your Wi-Fi management and security. Our access points are automatically set up and configured by the UTM. That means all your wireless clients get complete threat protection too.
Support for the latest high-speed wireless standards including 802.11ac and 802.11n
Centrally controlled wireless from your UTM
No local configuration of access points required
Automated channel optimization for maximum performance
Complete UTM protection for wireless clients
Quick voucherbased guest access customizable with your brand
Choose from a range of access-point models
Installs fast with automatic setup and configuration
You can set up multiple wireless Access Points (APs) within minutes. They require no local configuration and will simply find the controller, retrieve their IP address via DHCP, and import the configuration. Devices automatically appear in the UTM interface where you can manually activate them.
Creates reliable networks for all areas
Our access points support a variety of deployment scenarios. They include models for desktop/wall mounting such as the entry-level AP 15 and the enterp rise-grade AP 55 and AP 100. The AP 15C, 55C and 100C are smoke-detector style ceiling -mount and the AP 100X is suitable for outdoor use.
Provides guest Wi-Fi and BYOD access
We give you secure, easy-to-manage guest access out-of-the-box–without extra appliances, licenses or complex configuration. And you can tailor the guest experience to suit your needs. Set bandwidth limits and content filtering as well as customizing the login page and vouchers to strengthen your company brand.
Secure wireless and integrated UTM protection
To prevent unauthorized access we use the most advanced encryption and authentication standards available, including WPA2-Enterprise in combination with IEEE 802.1X (RADIUS authentication). And, our APs forward wireless traffic to the UTM, giving wireless clients the same level of security as if they were physically connected to the LAN. You can also choose to authenticate users based on their credentials from any back end server supported by our UTM for greater flexibility and control.