XG 310 Security Appliance, HW rev. 2 XG31T2HAU

SOPHOS XG310 XG 310 Security Appliance, HW rev. 2 XG31T2HAU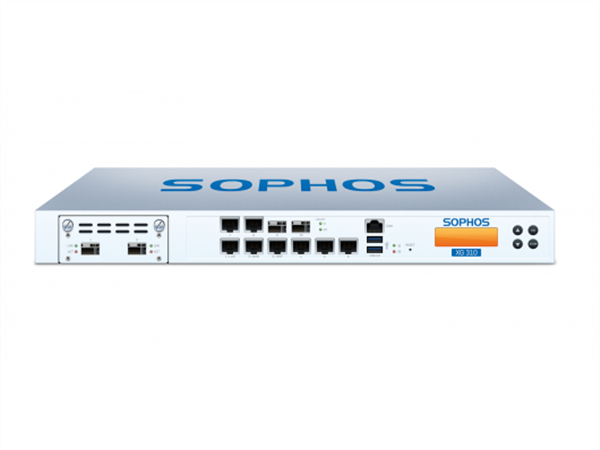 XG 310 Appliance with 8 GE ports, expansion bay for optional FleXi Port Module, 2x SFP
* Firewall throughput: 25 Gbps
* VPN throughput: 2.5 Gbps
* IPS throughput: 5.5 Gbps
* Ethernet: 8 GE copper + 2 GE SFP
Every XG Firewall comes equipped with Base Firewall functionality including IPSec, SSL VPN, and Wireless Protection.
You can extend protection with protection bundles or by adding protection modules individually.
Network Protection
All the protection you need to stop sophisticated attacks and advanced threats while providing secure network access to those you trust.
Sandstorm Protection
Sophos Sandstorm uses next-gen cloud-sandbox technology to give your organization an extra layer of security against ransomware and targeted attacks.
Web Protection
Comprehensive web protection and application control with powerful and flexible policy tools ensure your networked users are secure and productive.
Security Heartbeat™
Links your Sophos endpoints with your firewall to deliver unparalleled protection from advanced threats and reduce the time and complexity of responding to security incidents.
Email Protection
Full SMTP and POP message protection from spam, phishing and data loss with our unique all-in-one protection that combines policy-based email encryption with DLP and anti-spam.
Web Server Protection
Harden your web servers and business applications against hacking attempts while providing secure access to external users with reverse proxy authentication.
Contact us for more information, and subscription bundle options.
Standard Support (included with purchase)
Telephone and email support, Software Feature Updates & Upgrades, for 90 days.
12 months RTB hardware warranty
Enhanced Support (included in all UTM subscription bundles)
24/7 telephone and email support
Software Feature Updates & Upgrades
Advance replacement hardware warranty
Enhanced Plus Support (optional purchase)
VIP Access 24/7 telephone and email support
Software Feature Updates & Upgrades
Up to 4 hours of consulting services
Advance replacement hardware warranty